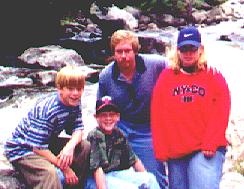 From left to right: Chris, Cory, Brian, Cassie

---
Visit our individual pages to find out more about our family!
Just click on each name...




---
A few vacation photos are now posted. Click here to view them! And remember, more will be posted as we find them!
---



Click here to go to The Ultimate Husker Fan's Home Page!
---
Send

To: The Bruns Family
---
The internet and a program called "ICQ" is a wonderfull way to chat and keep in touch with family and friends from around the world. Why not click on the button below and find out?! Brian's ICQ # is 7093466. Cassie's ICQ # is 17412891.

---
We last updated our pages on: October 22, 1998